Whatever your needs are for night driving, we cater for every option
Be it out on the rough terrain requiring the brightest intensity or the long distance of an open terrain along the coast, or both, Dobinsons has got the lot!
All driving lights are IP67 and IP68 Dust and Water Proof Certified. We stock a full range of LED light bars and driving lights with many variations in output and functionality.
Zenith 155 watt LED Driving light
The Zenith 155 watt LED Driving light combines two years of research, testing and development to offer the ultimate in LED driving light performance. Combining 4 x 20 watt extra deep dish long distance LED chips and 15 x 5 watt spread LED chips, the Zenith driving light has been designed, tested and proven in Australia to provide a combination of long distance and close-spread clear white light. The 8.25" multi-fin alloy housing combined with a heavy duty steel mounting bracket and polycarbonate lens ensures the Zenith Driving light will continue to perform in the harshest terrain.
Long Distance LED's
4 x 20 Watt 6000K Long Distance Centre LED's
Spread LED's
15 x 5 Watt 6000K Spread Centre LED's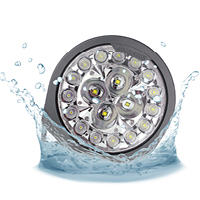 Water & Dust Proof
IP68 Water & Dust Proof Rating
Variable Voltage
155 Watt - 9 to 32V DC
Raw Lumens
12,700 Raw Lumens Per Light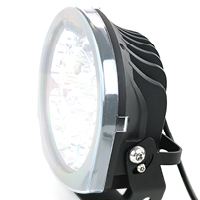 Polycarbonate Lens
Polycarbonate Smash Resistant Lens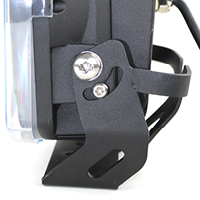 Braced Steel Mount
Heavy Duty Braced Steel Mount
Multi-Finned Housing
8.25" Multi-Finned Heat Dispersing Alloy Housing
3" Square LED Driving/Work Light
Sold as a Kit (Contains 1 x Lights, 1 x Clear Lens Cover)
4" Round LED Driving/Work Light
Sold as a Kit (Contains 1 x Lights, 1 x Clear Lens Cover)
*Can be used to replace Fog Lights as Driving Lights (may require some bracket fabrication, not suitable as fog lights)
The lens reflector in each Dobinsons LED light have been specifically designed and tested to match each light and provide excellent long range lighting distance coupled with impressive light spread. Combine this with IP67 (lightbars) and IP68 (driving lights) Dobinsons LED lights are completely sealed against dust and can be submersed in depths up to 1 metre.
Other benefits of Dobinsons 4x4 LED lights include no warm up period, increased resistance to vibration damage and an expected life span of over 30,000 hours, exceeding the life of most vehicles.

Dobinsons range of LED Light Bars and Driving Lights combine the latest in CREE LED module technology with high quality narrow angle reflectors to provide astonishing long distance, super bright white light and impressive light spread due to the multi-bulb LED design.
Dobinsons range of LED lights offer the very latest in long lasting LED technology. Utilising highly efficient, high quality LED bulbs, Dobinsons 4x4 LED lights will provide you with clear, bright light long into the night, without drawing excessive power consumption from your vehicle. All driving lights are IP67 and IP68 Dust and Water Proof Certified.

Manufactured from high quality structural steel, Dobinsons Bull Bars are CNC cut, bent and welded for accurate fitment and optimum strength and durability.